Is a consumer centric trade body focused on key themes of:
representative lobbying, 
leading and setting high standards for consumers and 
awareness "thought leadership" of how housing wealth can help many financial challenges
For over 25 years, the Equity Release Council has represented the equity release sector and exists to promote high standards of conduct and practice in the provision of and advice on equity release, which have consumer safeguards at its heart. 
These standards and safeguards have allowed the sector to grow, giving financial advisers and their customers confidence in the products, dispelling myths about equity release, and educating the public about the potential to access the wealth in their home for a variety of uses.
The reputation and standing of the brand and the trust developed has seen its membership grow, bringing the sector together and helping it strengthen its voice: providers of equity release plans, solicitors, intermediaries, financial advisers, consultants, surveyors and other industry professionals - all committed to the Principles of membership. The Council builds on this unified voice of its members, while remaining independent from the specific views of individual member firms or particular segments of the equity release market.
KRD Financial Advisers is a member of The Equity Release Council.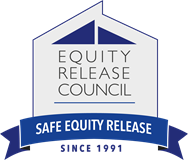 The ERC Consumer Brochure 2018